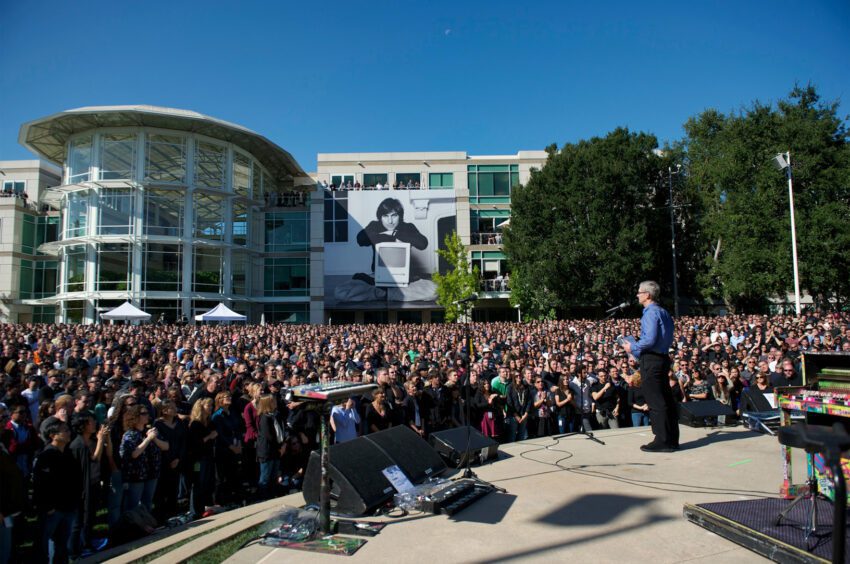 Coldplay, synchronicity, and the Steve Jobs' memorial
Coldplay, synchronicity, and the Steve Jobs' memorial
Photo: Tim Cook addressing employees at the memorial service.
A few weeks after the death of Steve Jobs, a memorial service was held at what was then Apple headquarters. Apple no longer hosts a video of this service, but a shitty version plastered with ads can be found on YouTube. Like a classic Steve Jobs keynote event, it ended with musical performances by some of his favourite artists: Norah Jones and Coldplay.
Before Coldplay's four-song performance started, Chris Martin (lead singer) remarked, "We played this song for Steve 10 years ago, and he said it was sh–. He said we'd never make it". It's not hard to imagine hearing him say that.
In my mind, the opening bars of "Fix You" seemed instantly appropriate. Amidst a sea of people and giant iconic banners of Steve, the lyrics gave me goosebumps. I'm sure I wasn't the only one.
When you try your best, but you don't succeed
When you get what you want, but not what you need
When you feel so tired, but you can't sleep
Stuck in reverse

And the tears come streaming down your face
When you lose something you can't replace
When you love someone, but it goes to waste
Could it be worse?
I started imaging a music video of this song as it unfolded. I imagined footage from the early 1990s, long after Steve was kicked out of his own company, then desperately trying (and let's be honest, failing) to will his new company (NeXT) to success.
Synchronicity
Many have experienced the phenomenon of hearing a song in a certain context and feeling like the lyrics just seem to fit perfectly. I've tried many times to find a word to describe this, and the best I could find was synchronicity: circumstances that appear meaningfully related yet lack a causal connection. The interesting part is the desire to want there to be a connection even if there can't possibly be one. I wanted the lyrics to fit so Steve could have the most fitting tribute possible.
By the seventh line, it was starting to become a stretch. Who was the person he loved, but it went to waste? Lisa, his estranged daughter? Supposedly his adoption held him back in life. Maybe the lyrics refer to him loving Lisa but not being able to reconcile with her yet. You could probably bend the lyrics to fit any occasion. 😃
Then:
Lights will guide you home
And ignite your bones
I will try to fix you
Ok, is Steve seeing the white light and going to heaven? Or is he going home to Apple in 1996? And who is trying to fix him?
This is where things got even weirder. If you watch the video, the camera switches to Laurene Powell Jobs (his wife) right as Chris Martin sings, "I will try to fix you".
If I were into conspiracy theories, I'd spread a story that Coldplay played the song for Steve, after he called it shit, they re-wrote it together to follow the narrative of his life. Then, Steve staged his death from cancer so that this could be played at his memorial. Then, he's in his secret lair somewhere, hatching amazing new products. Maybe I should have my own AM radio show.
In the interest of beating this to death, here are the remaining two verses:
High up above or down below
When you're too in love to let it go
But if you never try you'll never know
Just what you're worth

Tears stream down your face
When you lose something you cannot replace
Tears stream down your face and I
Tears stream down your face
I promise you I will learn from my mistakes
Tears stream down your face and I
Is it just me, or does it sound like Steve is suffering and then learning from getting pushed out of Apple?
Admit it; now you're starting to see it too.