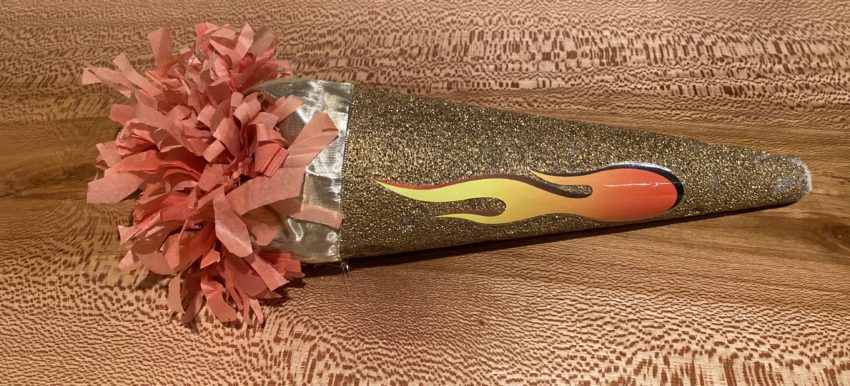 The Smart Torch™
The Smart Torch™
Photo: Smart Torch, appropriately displayed on a native Sycamore bench.
When I worked on the Mail Team, we had this gorgeous styrofoam and paper thing we called the Smart Torch. It had a realistic flame on the side made out of a sticker. Here's what it looked like:
I have no recollection who made it. The important thing was what it represented. It was conceptually brilliant.
Here's how it worked.
Someone was always the current keeper of the Smart Torch. It's a bit of a chicken and egg thing about who the original keeper was.
Whenever the keeper of the Smart Torch observed another team member doing something really smart, they awarded them the Smart Torch.
Then, the cycle repeated itself.
Having the Smart Torch was a great honor, and of course, how long you had it was also a matter of great pride. I mean look at it. It's basically in the same league as the Olympic Torch.
My distinction is that I apparently did the last smart thing on the Mail team as I've had it for 14 years after I left the team.
You might consider a Smart Torch for the company for which you work. It's great fun and also can be wielded. It could probably be used for blackmail or to shame someone to tears. It could lead to tears of joy or a doubling of your salary.
The uses are endless.
Make one today. Use the finest materials and craftsmen. Make it organic and fair trade. Anyone holding it should feel like they are holding a real torch engulfed in spectacular flames.